Summer is almost over, so I'm sure that you and your family are eager to travel in this last month before the new school year starts! Traveling is a great way for your children to practice their executive functioning skills (and yours, as well!).
Before we jump into how to involve your kids with planning a trip, it's important to consider the benefits of planning ahead:
Booking tickets and hotels ahead of time makes it much more affordable to go away. Waiting until the last minute might mean switching to a less-desired option, or not going at all! One tip is to book flights more than a month in advance. Once it hits that one-month point, flight tickets tend to go up.
You can book all aspects of a trip without activities being sold out or full, including hotels and car rentals. Everyone can participate and select activities if you plan ahead of time, which is especially important if your traveling party has people of all different ages in it.
The best way for children to learn a skill is to have someone model what the process looks like. Involving teenagers in family trips is also a great way to pique their interest!
Feel ready to involve your children in planning? Great! Here's some advice on how they can have fun thinking through how to create a memorable trip:
Let them choose an attraction or destination to visit. They can pick one small part of the trip or a larger part, depending on their age. Have them do the research and write notes about their plan. Before they begin, brainstorm together some of the things they'll need to figure out, such as days/hours of operation, cost, tickets, directions, where to eat nearby, etc.
Similarly, build an itinerary for each day. Together, choose a few places/sights/etc., that you want to see. Ask your children to figure out in what order you should travel to each location, how long you might spend at each place, restaurants in the area, and transportation if needed. Personally, I like using Google Sheets or an Excel document for my itineraries; I put the dates on the top and the time of day on the left-hand side. Here's an example: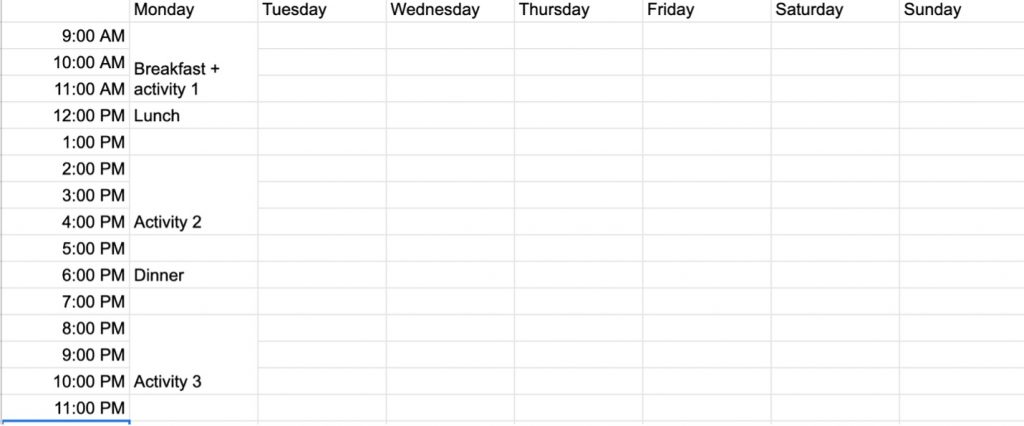 Create a packing list. Packing lists can be overwhelming, so this should be a structured process. Ask your children to visualize their day from waking up to going to bed. Then, brainstorm categories of items they'll need, such as clothes, shoes, toiletries, and special activities (e.g., the beach). After making this list, they should then count the number of days of the trip, check the weather, and decide how many of each article of clothing they'll need. 
If you're going on a road trip, build your route together! Research attractions along the way and find the most reasonable route. Have your children estimate how long it'll take to drive there and compare it to how long it actually takes. Plus, this allows them to enjoy the ride, rather than napping or zoning out the whole way through! 
One way to up the ante is to impose a budget. Ask your children to find a hotel or restaurant that doesn't go over a budget. Or, give them a budget and ask them to plan an activity that will fit within the limits.
These are just some small ways to motivate your kids to get involved in trips while using their executive functioning skills. No matter where you travel to, make sure you start planning early. Save your family the stress of throwing a trip together at the last minute by planning ahead!