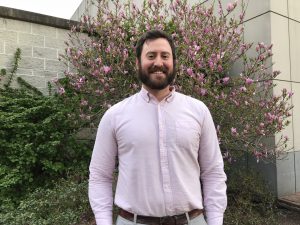 Stephan Nazarian, J.D.
Specialties: Thinking Organized's Core Focus Areas: Time Management; Material Organization; Studying Strategies; Note-taking; Written Language
Education: B.A. in Political Science from Fulbright College at the University of Arkansas; Doctor of Jurisprudence from the University of Arkansas School of Law
Experience: Since 2018, Stephan has worked with individuals of all ages at Thinking Organized. Stephan specializes in helping his clients build stronger study skills by building the habit of actively engaging with the material throughout the course of a unit in order to develop a deeper understanding of the concepts, rather than simply memorizing the steps. Once the topic has been grasped, engaging with the material at regular intervals ensures that the student will remember the material come test time. Stephan also focuses on helping students build strong critical thinking skills. Utilizing his background in the law, and years spent teaching test preparation as the head of Thinking Organized's Test Prep Program, Stephan helps students build their comfort level making simple deductions as a platform for developing broader deductive and inductive reasoning skills.
What do you enjoy most about working at Thinking Organized?
I most enjoy the relationships that I have built working with my clients. School can be hard, being a teenager can be hard, college can certainly be hard. Watching my students develop the confidence that they need to be successful is always rewarding.
What has been your greatest personal and/or professional achievement and why?
Helping a student build the cognitive and executive functioning skills to move from an entirely special needs classroom to rejoining their peers at grade level.
What interesting fact would your clients & colleagues be most surprised to learn about you?
I skipped the 6thgrade and graduated from high school at 16.
Stephan Nazarian, J.D.