You know how people will sometimes say that too much of a good thing can make it a bad thing? Well, friends, I am here to tell you that this is simply not true. How is too much ice cream bad for you? Or too much chocolate? It simply isn't!
I like to follow that mantra for all aspects of my life, including how I stay organized. At some point in your life, I'm sure that you've used a checklist. Maybe you used one to remind you about items to buy at the grocery store, assignments to complete at school, or worlds to dominate. Checklists are a tidy way to help you keep track of the millions of things that need to get done. So, you may be wondering why I keep not one, not two, but THREE checklist systems. After all, wouldn't the naysayers tell you that this is overkill?
For some people, my three-checklist system might be too overwhelming. But for me, it's extremely helpful because it allows me to categorize the tasks that I need to complete. There are so many moving parts in my life, and trying to keep it all in my head, let alone restricted to one checklist, just doesn't cut it. Let me show you!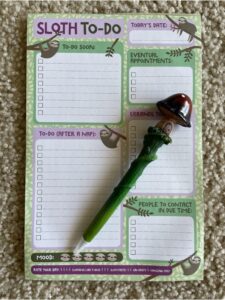 This sloth checklist (adorable, right?) contains long-term things that I need to complete in both my personal and professional life. For example, I might have reminders to buy my mom a birthday present or to write the Thinking Organized June blog post on here. Typically, the items on this checklist aren't due for at least a few weeks. The sloth helps me think about the bigger picture.
This plan of attack checklist (very determined!) contains immediate tasks that I need to complete. I only place work-related items on this list so that I don't fall behind in anything. These items are things that I want to finish within the next two weeks, like reading and commenting on something that a colleague sent me. I pull professional items from my sloth checklist to put on this checklist when I want to free up some space on the sloth.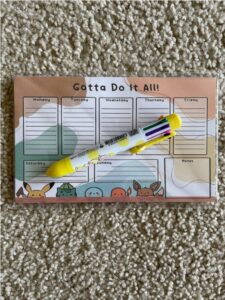 This last checklist is just so stinkin' precious to me! It's Pokémon-themed, which speaks to my heart. On this checklist, I plan out what to do on a daily basis. I pull items from my plan of attack checklist so that I have a clear goal of what I want to accomplish every day. This is something that I started back in college, as it made my life easier to set some daily goals so that I could handle all of my assignments.
Maintaining three checklists isn't for everyone, but it works for me! I love that I get to use checklists with fun designs that also allow me to be organized in a way that works best for me. Plus, having so many checklists means that I get to use all sorts of cool pens (if you couldn't tell, I love collecting cute pens). Are you a checklist kind of person? What do you use to stay organized?