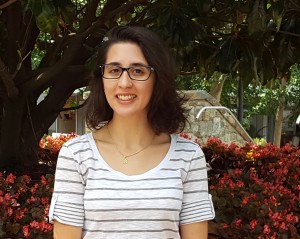 Kristin Backert-Evans, M.A.
Service Areas: Silver Spring, MD; Chevy Chase, MD; Washington, D.C.
Specialties: Thinking Organized's Core Focus Areas: Time Management; Material Organization; Studying Strategies; Note-taking; Written Language – Emphasis on writing
Education: B.A. in English from Adelphi University with a minor in Spanish; M.A. in English literature at The Catholic University of America
Experience: Kristin worked in Adelphi University's Writing Center for three and a half years as both a Peer Tutor and Online Writing Tutor. She has also worked as a Writing Assistant, where she helped students adjust to college-level writing and assisted them in the revision process of their papers, and as a Writing Instructor at The Catholic University of America.
What do you enjoy most about working at Thinking Organized?
What I enjoy most is forming bonds with my students. I get to meet many wonderful students through Thinking Organized, and it's so gratifying to see them become more confident in themselves and in their academic abilities. Creating a personal bond with my students better enables me to help them understand the tools they need to use in order to be successful. It's a great feeling when they text me or come to a meeting with a smile on their face because they performed well on a test or essay!
What has been your greatest personal and/or professional achievement and why?
My greatest personal achievement was figuring out what I wanted to do after completing graduate school. At the time, I was confident that I would go on to become a teacher or professor, one who was comfortable standing up in front of a large group of students and ready to make them realize their English class would end up being their   favorite class ever. But as the years went by, my time at school made me realize that I love working with students in a one-on-one capacity because I can have a more significant impact on their academic career. Recognizing that I prefer this style of teaching made me completely rethink my career choices, and I'm confident I made the    right switch!
What interesting fact would your clients and colleagues be most surprised to learn about you?
Although fantasy is my go-to genre (thank you, Harry Potter!), I am also a voracious reader of nonfiction science books. There's just something so fascinating about the way that diseases work or the way that humans attempt to preserve or resurrect extinct species. Perhaps surprisingly, my science collection is larger than my fantasy collection; my younger self would probably disown me if she knew that.
Kristin Backert-Evans, M.A.