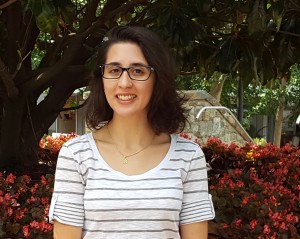 Service Areas: Silver Spring, MD; Chevy Chase, MD; Washington, D.C.
Specialties: Thinking Organized's Core Focus Areas: Time Management; Material Organization; Studying Strategies; Note-taking; Written Language – Emphasis on writing
Education: B.A. in English from Adelphi University with a minor in Spanish; M.A. in English literature at The Catholic University of America
Experience: Kristin worked in Adelphi University's Writing Center for three and a half years as both a Peer Tutor and Online Writing Tutor. She has also worked as a Writing Assistant, where she helped students adjust to college-level writing and assisted them in the revision process of their papers, and as a Writing Instructor at The Catholic University of America.
What do you enjoy most about tutoring at Thinking Organized?
What I enjoy most is seeing students become more confident in themselves and their abilities. Watching their insecurities fade and hearing their excitement is an incredible feeling. It's also incredibly motivating to see students work hard and want to succeed.
What has been your greatest personal and/or professional achievement and why?
Getting accepted into graduate school. Although I had enjoyed my undergraduate courses, I wasn't sure about what I wanted to do after graduating. I ended up applying to grad school after seeing my first live Shakespeare play; the performance made me realize how much I love studying theatre and how the academic world would give me the chance to be completely immersed in it. Deciding to move away for school was also a big accomplishment for me because I'm the first in my family to leave home.
What interesting fact would your clients and colleagues be most surprised to learn about you?
Despite being an English major, I'm unable to visualize the characters and settings while reading, no matter how many visual descriptions are given. However, all of my other senses become incredibly heightened. For instance, when a character is described, all I'll see is a grey smudge; but when they begin speaking and using body movements, I'm able to their unique voice. Or if a character has rashly chosen to enter an abandoned house, I'll hear the stairs creaking and smell the imminent storm around me. It's almost like getting a view of the scene from a different angle. This has always helped me experience stories in cool ways, plus it helps me out with my creative writing.
Kristin Backert, M.A.