By Jennifer Sax
It's hard to remember a time when my to-do list was empty. As a working mom, it can be hard to balance what I need to accomplish to be a successful professional, with what I need to take care of in my daily life. This certainly was the case for me in the fall of 2020, when I returned from maternity leave and found myself working full-time from home. The boundaries between work and home life felt blurry, and taking time for myself felt like a luxury. New mom or not, COVID or not, student or not, most people can relate to feeling like a 24-hour day just isn't enough. Although everyone's life circumstances are different, I've found that carving out time for all parts of my life is essential to keep me feeling healthy, sane, and more productive.
One way I manage my time is by creating a to-do list that's synced with my digital calendar. Although many people choose to use separate calendars/lists for work and personal tasks, I've found that integrating them allows me to better visualize my day, ultimately making me more productive. My to-do list typically looks something like this: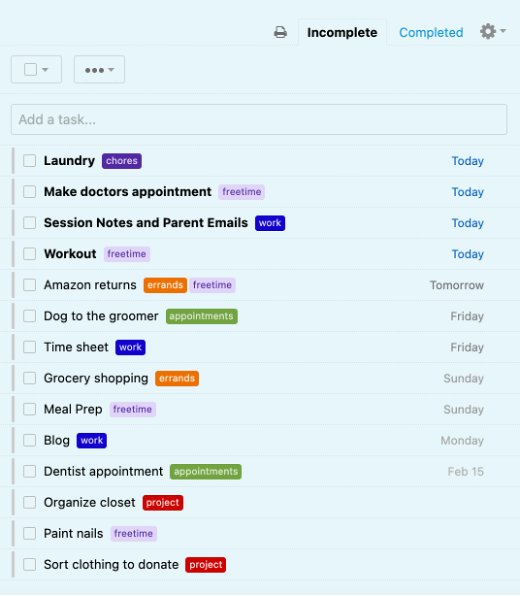 My list includes weekly tasks, such as errands, work items, chores, and appointments. I also include long-term, often "aspirational" projects, such as organizing my closet. Although sufficient time to complete these larger tasks is rare, when the grandparents decide to babysit, I know where to look for inspiration.
You may also notice that I include "self-care" activities, such as painting my nails, working out, and meal prepping. Unfortunately for many of us, personal time is often not a priority. Lately, I've realized that me-time is incredibly important; it renews my energy and focus, and creates space for me to be fully present when I'm working. Therefore, I always add self-care tasks as concrete items on my list to serve as a reminder of their importance, as well as to cue me to schedule them on my calendar.
Although I would love to share my actual calendar to demonstrate how I fit it all in, I need to protect my clients' privacy (#HIPPAlife). Instead, you'll have to settle for… I mean, you will have the privilege of seeing my version of the Thinking Organized "How I Spend My Time Worksheet." Using this worksheet or my personal calendar to create a detailed schedule helps me identify times when I'm free, especially when my to-do list is long. I block off work, daily routines, and appointments first. Then, I look at all of my available flex time. Believe it or not, I schedule my "self-care" tasks next, followed by errands and chores.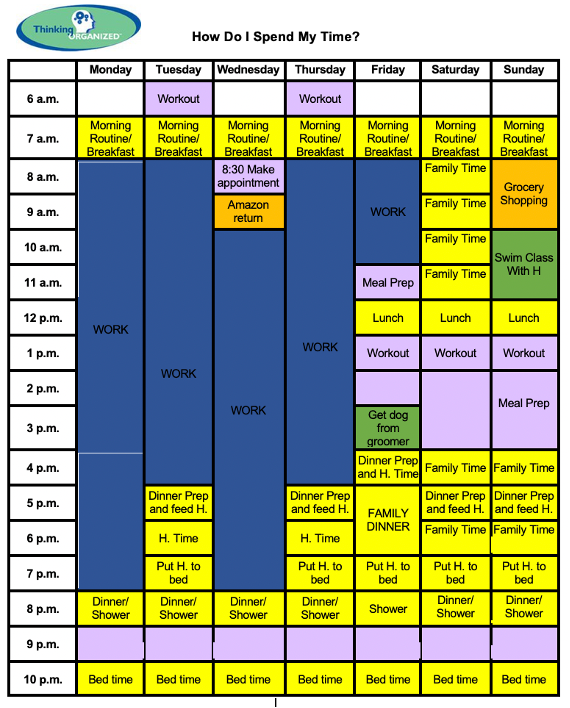 On particularly busy weeks, finding time to accomplish everything feels impossible. During these times, I pair activities together to be efficient. I'll listen to an audiobook while folding the laundry, or I'll call my family while washing dishes. I create space in my schedule by waking up 30 minutes earlier to workout, cooking a crockpot meal, or ordering my groceries online. On these weeks, I make an effort to schedule time for phone calls with friends, to read a book, or watch Netflix, because these "smaller" self-care activities are important and necessary.
Reflecting back on the fall of 2020, I recognize that many of the challenges I faced balancing work and home life had to do with my mindset. I wanted to cook a family dinner every night, clean the house, play with my son, and be the one to put him to bed. While that may be a reality for some families, it isn't for mine. I learned to establish a manageable schedule based on realistic expectations, as well as the value of delegation. I often rely on my husband's support, hire someone to help me clean when I'm too busy, or take my son to grandma's house so I can get more accomplished. Of course, I could choose to stay up late doing laundry or finishing up work, but then other parts of my life would suffer. I learned to accept that there are days or weeks when everything cannot get done. There are 24 hours in a day, and I am only human.