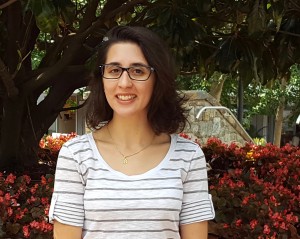 Kristin Backert-Evans, M.A.
Specialties: Thinking Organized's Core Focus Areas: Time Management; Material Organization; Studying Strategies; Note-taking; Written Language – Emphasis on writing
Education: B.A. in English from Adelphi University with a minor in Spanish; M.A. in English literature at The Catholic University of America
Experience: Kristin has worked with Thinking Organized since 2014, and in her time with Thinking Organized, Kristin has worked with students having a variety of diagnoses, including ADHD, anxiety, and depression. In sessions with these students, Kristin has taught them how to plan ahead, manage their stressors, advocate for themselves, and more. She has a special interest in working with students who have anxiety and/or depression, where she has helped them overcome school refusal and maintain anxiety journals in which they identify stressful situations and generate plans to manage these. Kristin has ample experience helping students navigate the college application process and adjust to the heightened expectations of beginning university life. In her work with middle and high school students, Kristin emphasizes the importance of advocacy and independence so that they are better prepared to manage future academic rigors.
What do you enjoy most about working at Thinking Organized?
I appreciate the fact that this job allows me to see my students grow. I have seen students go from shy high schoolers to confident college freshmen, ready to take on a new world. Knowing that I had a part in helping them enhance their academic abilities and develop crucial skills is such a rewarding feeling.
What has been your greatest personal and/or professional achievement and why?
When approaching the end of my time in graduate school, I was uncertain as to what to do with my life. Originally, I planned on becoming a teacher or a professor, someone who could get their students to care about English as a subject. Instead, I recognized that I loved working one-on-one with students because it allowed me to form strong bonds with them. It can be hard to pivot when your original plans don't work out, but I made the right choice!
What interesting fact would your clients and colleagues be most surprised to learn about you?
If I want to sound fancy, I'd say that I have an amateur interest in mycology. If I want to sound more casual, I'd say that I love stopping to identify mushrooms and other fungi while hiking. Any time that I hit the trails, I make sure to have my trusty tools with me: a magnifying glass to let me see more details, a ruler to help me measure different parts of the mushroom, a stick to help me lift the cap to see the gills (knowing what the gills look like is crucial to proper identification!), and my notebook to jot down notes and observations. When I get home, I check my various mushroom guides to help me figure out what I saw. This interest also means that the apartment is full of mushroom things – plushies, mugs, pens, you name it!
Kristin Backert-Evans, M.A.