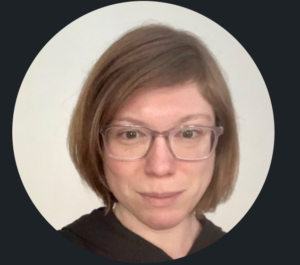 Jessica Bauman, M.S., CCC-SLP
Specialties: Thinking Organized's Core Focus Areas: Time Management; Material Organization; Studying Strategies; Note-taking; Written Language; Extensive experience with and interest in stuttering and spoken fluency
Education: B.A. in Linguistics from Cornell University; M.A. in Hearing and Speech Sciences from the University of Maryland, College Park
Experience: Jessica has been a Speech-Language Pathologist since 2009. She has worked with clients ranging in age from toddlers to young adults in a variety of settings, including elementary, middle, and high schools as well as private practice offices in the Washington DC area and in NYC.  At the high school level, Jessica worked extensively with students with executive functioning needs to problem-solve challenges with material organization and time management. She guided students through implementing both standardized and individualized organizational systems while working with them one-on-one, in small groups, and in large groups. Jessica takes an empathetic and student-centered approach to working on executive functioning that encourages students to take ownership and find joy in the process of getting organized. Jessica has completed advanced training in Avoidance Reduction Therapy for Stuttering (ARTS ©) from the Sisskin Stuttering Center and in Palin Parent-Child Interaction Therapy from the Michael Palin Centre. Jessica is ASHA certified and a member of the American Speech-Language Hearing Association. She also holds licenses in Speech-Language Pathology in Maryland and New York. Jessica is bilingual in Spanish and holds a Bilingual Extension from the New York State Department of Education.
What do you enjoy most about working at Thinking Organized?
I greatly appreciate the opportunity to work every single day with fascinating people on solving problems and improving systems.  The resilience, humor, and creativity of the people I work with, tackling the joyful puzzles of language and organization, are beautiful.
What has been your greatest personal and/or professional achievement, and why?
A major personal achievement of mine was completing two marathons a few years ago.  I have never been athletically inclined, and when I decided to begin jogging, I didn't even enjoy it.  I am proud of this accomplishment because I both literally learned to like something I never thought I would enjoy, and then developed and executed a plan to complete a long-term goal related to this newfound interest.
What interesting fact would your clients & colleagues be most surprised to learn about you?Ever since I was a child and saw it on TV for the first time, I've been captivated by rock climbing, and I've just taken it up as a hobby within the last year.  It's never too late to try something new!
Jessica Bauman, M.S., CCC-SLP