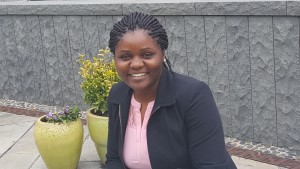 Colette Hapi
Service Areas: Chevy Chase, MD; Washington, D.C., Silver Spring, MD
Specialties: Thinking Organized's Core Focus Areas: Time Management; Material Organization; Studying Strategies; Note-taking; Written Language – Emphasis on Algebra 1, Geometry, Algebra 2, Calculus, Chemistry, Physics, SAT math, and ACT math.
Education: B.A. in Physics, French and Minor in Math from Frostburg State University; Will be pursuing a Master's Degree in Physics from the University of Maryland
Experience: Colette has been tutoring since her junior year of college, where she served as a peer tutor and has been involved in the growth of many students ever since.
What do you enjoy most about working at Thinking Organized?
Like many other mentors, I definitely enjoy seeing the growth of my students the most. As a tutor, there's nothing more rewarding than seeing the elated faces of your students after accomplishing a goal; it makes all the hard work and longs hours worthwhile.
What has been your greatest personal and/or professional achievement and why?
My greatest accomplishment is contributing to the growth of my students; I am proud to be part of their team! I'm inspired by witnessing all that can be accomplished through hard work and dedication, and I love to celebrate each one's accomplishments. Success looks different for each student, but knowing I helped everyone to try to achieve specific goals will always be my greatest accomplishment.
What interesting fact would your clients & colleagues be most surprised to learn about you?
One of the most interesting facts about me is that in the summer of 2012, I joined an organization called the 4k for Cancer where 30 of us had the opportunity to bike from Baltimore, MD to Portland, OR to raise awareness for youth with cancer. Each rider was in charge of raising $4500 ($1 per mile) and the proceeds went to scholarships for youth who had survived cancer. It was a very humbling and rewarding experience.
Colette Hapi