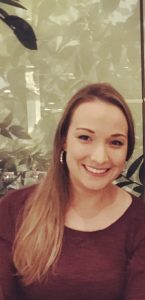 Nina Borras, M.S., CCC-SLP
Service Areas: Arlington County, VA; Washington D.C.; Montgomery County, MD
Specialties: Thinking Organized's Core Focus Areas: Time Management; Material Organization; Studying Strategies; Note-taking; Written Language; Emphasis on Reading, Writing, and Language Disorders
Education: B.A. in Communication Sciences and Disorders from James Madison University; M.S. in Speech-Language Pathology from James Madison University
Experience: Nina has been a Speech-Language Pathologist since graduating in 2016. Nina has worked with clients ages birth-adulthood with speech and language concerns. Nina is trained in Level 1 PROMPT, Language Acquisition through Motor Planning (LAMP), and Moving Forward with LAMP on Accent. Nina is ASHA certified and a member of the American Speech-Language Hearing Association. She also holds a DC license and a VA license in Speech-Language Pathology.
What do you enjoy most about tutoring at Thinking Organized?
What I enjoy most about tutoring at Thinking Organized is the focus on each student's specific needs. It is important to treat each student as an individual with particular ambitions and work together to best address their goals in an effective manner. I love helping students reach their personal goals!
What has been your greatest personal and/or professional achievement and why?
My greatest achievement was graduating with my Master's degree in 2016. In addition to my coursework, I assisted with research and held a position as a graduate assistant. I learned a lot during this experience and took great pride in rising to the presented challenges!
What interesting fact would your clients & colleagues be most surprised to learn about you?
I am very active and love to play sports! I enjoy playing recreational softball and soccer. When I am not on the move, I like to read both fiction and non-fiction books, play board games, and check out the latest movie releases!
Nina Borras, M.S., CCC-SLP