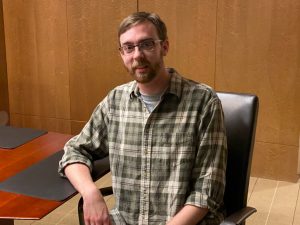 Michael Evans, M.A.
Service Areas: Washington, D.C.
Specialties: Thinking Organized's Core Focus Areas: Time Management; Material Organization; Studying Strategies; Note-taking; Written Language; Emphasis on Writing
Education: B.A. in English from Northwest Missouri State University; M.A. in English from the Catholic University of America; Candidate for Ph.D in English from the Catholic University of America
Experience: Michael has been mentoring with Thinking Organized since 2015. As part of his graduate studies, he tutored at his university's writing center from 2014 to 2016 and since then has been teaching English composition courses at the university.
What do you enjoy most about working at Thinking Organized?
I have found that when someone puts his or her mind to work and finds a way to use that energy to craft a new idea or a new experience, there is a great deal of excitement and personal enjoyment to be had. I love watching the students I work with find new ways to put their thoughts into action or to give expression to their curiosities: it is very rewarding.
What has been your greatest personal and/or professional achievement and why?
My graduate education is, I feel, my greatest personal achievement. I have the opportunity to devote my time to exploring the art and ideas that make the world a place worth being in, and I get to learn new things every day.
What interesting fact would your clients & colleagues be most surprised to learn about you?
Though I am an English graduate student now, before high school I strongly disliked anything seen as "classic" literature: I thought it was boring and tedious. It took me a while to warm up to it, though once I did, I did in a big way.
Michael Evans, M.A.