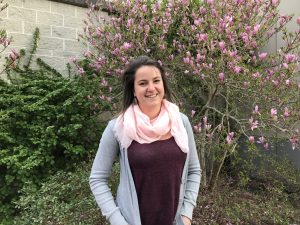 Mallory K. Rotondo, M.S., SLP
Service Areas: Montgomery County, MD; Washington, D.C.
Specialties: Thinking Organized's Core Focus Areas: Time Management; Material Organization; Studying Strategies; Note-taking; Written Language; Emphasis on Reading, Writing, and Language Disorders
Education: B.S. in Speech, Language and Hearing Sciences from Purdue University; M.S. in Speech-Language Pathology from Purdue University
Experience: Mallory recently graduated with her Master's degree from Purdue University in West Lafayette, IN. She is completing her clinical fellowship in speech-language pathology with the Thinking Organized team. Prior to beginning her career with Thinking Organized, Mallory has worked with clients from birth through adulthood treating a variety of speech, language, and cognitive needs. She completed a clinical internship within the Cincinnati Children's Hospital Outpatient Neurorehabilitation Team, assisting children in improving cognitive skills, executive function, and expressive/receptive language skills.
What do you enjoy most about tutoring at Thinking Organized?
What I enjoy most about Thinking Organized is how functional our services are. Working with parents and children to tackle meaningful goals that make a difference in their daily life and improve their self-confidence is incredibly rewarding!
What has been your greatest personal and/or professional achievement and why?
In 2016, I ran the Chicago Marathon! I am not a runner, and I wasn't sure if I would be able to take on the feat. After months of long-distance training, it felt amazing to cross the finish line. It reminded me that, truly, nothing is impossible. I still justify eating excessive amounts of ice cream as a reward for this accomplishment!
What interesting fact would your clients & colleagues be most surprised to learn about you?
I love the outdoors. I spend a lot of my free time hiking, biking, rock climbing, and traveling. The longest trail I've completed was the Tour Du Mont Blanc which is a 120 mile trail passing through France, Italy and Switzerland!
Mallory K. Rotondo, M.S., SLP