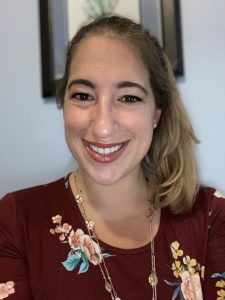 Katherine Costantini Tenner, M.S., CCC-SLP
Specialties: Thinking Organized's Core Focus Areas: Time Management; Material Organization; Studying Strategies; Note-taking; Written Language
Education: M.S. in Speech-Language Pathology at the University of the District of Columbia
Experience: Kat has been a Speech-Language Pathologist since 2018. Since graduation, she has worked with clients from birth to 18 years of age treating a variety of speech-language needs. Kat is ASHA certified and a member of the American Speech-Language Hearing Association. She also holds a DC license in Speech-Language Pathology.
What do you enjoy most about tutoring at Thinking Organized?What I enjoy most about Thinking Organized is being able to watch students learn and grow. There is no better feeling than helping children and experiencing that moment when it all clicks for them.
What has been your greatest personal and/or professional achievement and why?
The month of May 2018, I juggled working full-time at my internship, graduating with my Master's in Speech-Language Pathology, as well as finishing planning and actually getting married all in the span of three weeks. While it was a crazy month, this month included so many personal and professional milestones and I could not be happier that I accomplished these three goals.
What interesting fact would your clients & colleagues be most surprised to learn about you?
I am an avid reader! In a typical year, I read about 100 books and try to rotate between fiction and non-fiction to keep my interests and knowledge more well-rounded.
Katherine Costantini Tenner, M.S., CCC-SLP