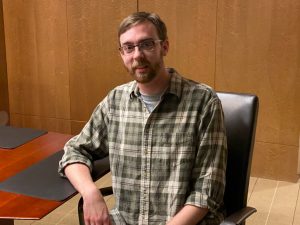 Michael Evans, M.A.
Specialties: Written language skills and reading strategies; Thinking Organized's Core Focus Areas: Time Management; Material Organization; Studying Strategies; Note-taking; Written Language
Education: B.A. in English from Northwest Missouri State University; M.A. in English from the Catholic University of America; Candidate for Ph.D in English from the Catholic University of America
Experience: Michael has been mentoring with Thinking Organized since 2015. During that time, he has worked with a wide variety of students from the elementary, middle, and high school levels. His work with students has included an emphasis on an array of different skills and approaches. For instance, he has been able to guide students through the process of crafting complex full-length research papers, building up their ability to engage with the detailed process in an organized and thoughtful way and setting them up with research and communications skills that will be relevant long past high school and even college. He has also been able to help students navigate challenging and exciting efforts like the college application process. Not only has guiding students through applications to college given those students support at a crucial time, it has also given Michael opportunities to help them practice a number of skills that Thinking Organized emphasizes, such as time-management, material organization, forward thinking, and written communication.
What do you enjoy most about working at Thinking Organized?
I think my favorite part of working with Thinking Organized is having the opportunity to encourage students to be excited about what they are learning. When students realize the topics they are studying are relevant and interesting, it gives them renewed motivation to take ownership of their work and success. These moments for me are really fulfilling.
What has been your greatest personal and/or professional achievement and why?
The work I am currently doing on my dissertation is what I'd consider my greatest profession achievement. It's been the culmination of a great deal of work, and that work has put me in a position where I am doing something that I find interesting and important.
What interesting fact would your clients & colleagues be most surprised to learn about you?
My area of study as a doctoral student is 19th century American literature, and I absolutely love it. But when I'm not reading 150-year-old novels, I'm a huge reader of comic books (Captain America is my personal favorite).
Michael Evans, M.A.