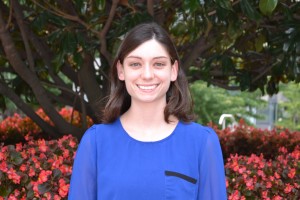 Service Areas: Bethesda, MD; Chevy Chase, MD; Silver Spring, MD; College Park, MD; Washington, D.C.
Specialties: Thinking Organized's Core Focus Areas: Time Management; Material Organization; Studying Strategies; Note-taking; Written Language

Education: B.S. in Elementary and Kindergarten Education from The Pennsylvania State University
Experience: Anna has enjoyed working with students of all ages as a caregiver, tutor, and teacher for the past eight years. A couple of highlights include being a part of the nationally recognized Professional Development School student teaching program in the State College Area School District and teaching a 3/4 combination classroom at Endeavour Elementary in Bakersfield, CA.
What do you enjoy most about tutoring at Thinking Organized?
The ability to form relationships with students one-on-one and tailor teaching to help them personally succeed is one of the most rewarding parts about tutoring. Witnessing the sense of pride and accomplishment in a student after achieving a goal and matching that with my own enthusiasm makes for an unforgettable learning experience.
What has been your greatest personal and/or professional achievement and why?
My greatest professional achievement  has been writing an inquiry research paper as part of Penn State's Professional Development School. It took several months of identifying a question or problem that I wanted to solve, designing a study to examine the question, researching background information, and collecting and synthesizing data before I was finally ready to present my work to an audience of fellow teachers, administrators, and school community members at a district-wide conference.
What interesting fact would your clients and colleagues be most surprised to learn about you?
I enjoy adding a bit of adventure to life. Whether it is driving across the country, riding a camel, or eating a fried mealworm, I like to take the opportunity to try something new.
Anna McAloon